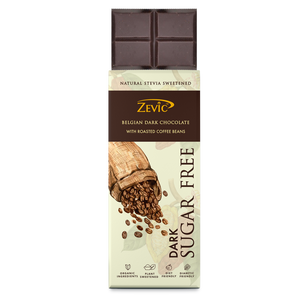 Zevic Sugar-less Chocolate with Roasted Coffee Beans 40 gm
Bestow upon your caffeine appetence, the most rejuvenating blend of roasted coffee beans and handpicked Belgian cocoa, with the natural Zero Calorie Sweetness of the Stevia plant. Take your step towards healthy indulgences with Zevic that'll never want you looking back!

Ideal for the health conscious and chocolate connoisseurs.

Key ingredients/Composition Unsweetened Belgian Cocoa, stevia extracts, emulsifier (492), antioxidants (322), maltitol (965/0), erythritol, roasted coffee beans, edible vegetable fat. Contains added natural (Vanilla) flavoring substances.
We do not add sugar or artificial sweeteners.

Safety information/Caution : Keep in cool dry place away from sunlight.