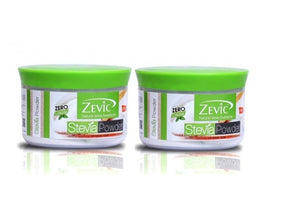 Zevic Stevia Sugar-free Zero Calorie Powder 200 gms (100gms x 2packs)
Zevic Stevia Zero Calorie Powder has a perfect sweetness to sweeten your food & beverages taste with no after taste.
It is a perfect naturally zero calorie substitute to sugar, honey and artificial sweeteners. Zevic natural zero calorie sweeteners DO NOT contain chemicals, sucralose, lactose, dextrose, aspartame, maltodextrin etc. among many other ingredients. Since it is heat stable, it is ideal for cooking and baking. Zevic Stevia sachets are perfect for usage in juices, shakes, smoothies, mocktails/cocktails etc.


Key ingredients/Composition : Stevia Extracts and Erythritol

Dosage :One spoon (provided inside) is equivalent to 1 tsp of sugar sweetness.
Indication : Heat stable upto 220 ?
Safety Information / Caution : Keep in cool dry place away from sunlight.