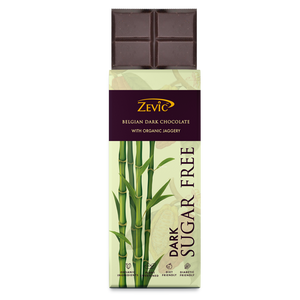 Zevic Belgian Dark Chocolate with Organic Jaggery
A match made in heaven: Sugar-less chocolate with the goodness of organic jaggery!

Tantalize your taste buds with the richness of cocoa and parallel, yet unparalleled sweetness bursts of pure organic jaggery sourced from the best organic farms to give you the most delightful experience that'll leave you craving for more.
This sugar-less chocolate makes for a great choice for health-conscious chocolate connoisseurs.
Key ingredients/Composition : Unsweetened Belgian Cocoa, Jaggery, Emulsifier (492), Antioxidants (322), Maltitol (965/0), Edible Vegetable fat. Contains added natural (Vanilla) flavoring substances.


We do not add sugar or artificial sweeteners.

Safety information/Caution : Keep in cool dry place away from sunlight.