Montac Therapeutic Health Socks for Diabetics
Montac Therapeutic Health Socks recommended for
Diabetics
Hypersensitive
Dry & Cracked Feet
Now get rid of the Feet problems. This socks is made up of Super Soft Cotton yarn, A technical marvel in Knitting with almost no top elastic takes care of people having diabetes, blood pressure, sensitive foot, circulatory problems, swollen or wide feet and Legs. Super soft Cotton and Lycra blend makes it perfect for all ages Infused with Patented Pure Silver Antibacterial technology, fighting with harmful bacteria and keeping fresh all day! Treated with natural and micro-encapsulated blend of nature's finest Aloe-Vera to soften and rejuvenate the skin. With friction or foot movement, the tiny micro capsules burst to release their contents during wear so the benefit is gradually disperse over time.
Benefits:
Revitalize your Feet,
Improved blood Circulation,
Anti-microbial,
Reduce irritation & itching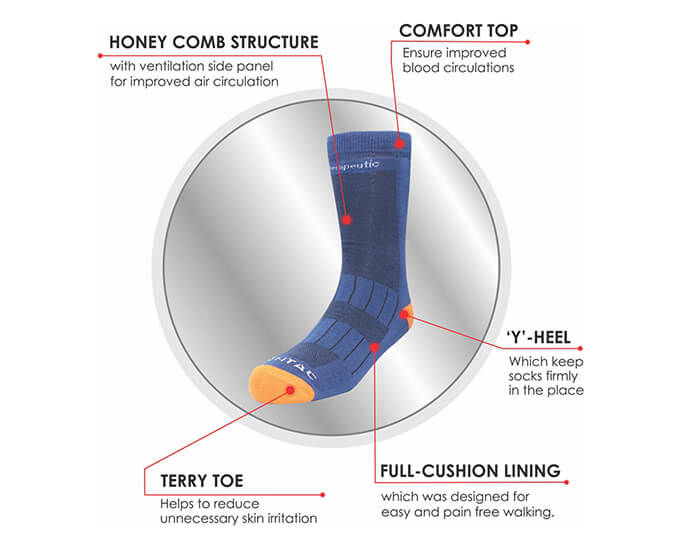 FEATURES:
* Elegant design to provide optimum comfort & Protection
* Comfort Top - Ensure improved blood circulations.
* Full-cushion lining, which was designed for easy and pain-free walking.
* Terry Toe - Helps to reduce unnecessary skin irritation.
* Honey comb Structure with ventilation side panel for improved air circulation
* Enriched super soft Cotton & almost no Elastic and fiber blend that enhances performance, comfort and stretch.
* Infused with nature's finest Aloe-Vera that provides benefits for your feet as you wear it.
* Patented Pure Silver Antibacterial Technology, fighting with harmful bacteria and keeping fresh all day!
* Treated with Hydrophilic finish that improves moisture wicking keeps your feet cool and dry.
* Y-Heel which keeps socks firmly in the place.