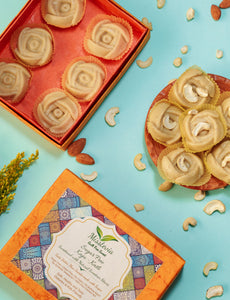 Misstevia- Sugar-Free Stevia Sweetened KAJU-Katli (Rose Shaped) - 250gms
Rs. 409.00

Rs. 409.00

Save Rs. 160
---
---
It is a Vegetarian Product. Misstevia presents a wide range of Sugar Free Sweets Sweetened with Natural sweetener Stevia. Our motto-"Taste Better Than Sugar based Sweets"
Misstveia Sugar free Stevia sweetened kaju katli is made of High Quality Cashew Nut & Stevia with pure Deshi Ghee.We do not use any preserved Cashew powder or Peanut powder.

NO COLOUR. NO SYNTHETIC CHEMICALS. NO ARTIFICIAL SWEETENER. NO OTHER FORM OF SUGAR. SWEETENED WITH STEVIA. MADE WITH 100% PURE CASHEW NUT. NO PEANUT POWDER.

Kids friendly

Best option for Diabetic& Calorie Coscious people.Best Sweets Gift option for every Occasion.

Ingredients: Cashew nut, Ghee,Stevia Sweetened, Non-Nutritive Natural Fibre