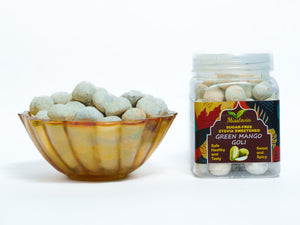 Misstevia Sugar-free Stevia sweetened Spicy& sweet Raw Mango Goli
Rs. 210.00

Rs. 210.00

Save Rs. 30
---
---
Misstevia launched 1st TIME in India STEVIA sweetened Diabetes and Kids Friendly
MUKHWAS: 
The Mago goli product is made with 100% Natural Raw Mango pulp. We do not add any Color, Flavor or Synthetic sweetener.
"Taste Better Than Sugar"
Diabetes And Kids friendly..Spicy and Sweet
Raw Mango Goli Composition- Raw Mango(Mango Pulp 60%),Jeera,Ajwan, Chilli
powder, Black salt, Salt,Hing, Ginger powder, Black pepper, Stevia Sweetened..