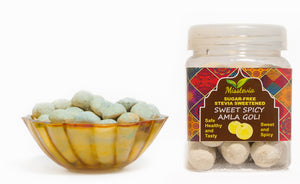 Misstevia Sugar-free Stevia sweetened Spicy& sweet Amla goli 110gms
Rs. 209.00

Rs. 209.00

Save Rs. 31
---
---
It is a Vegetarian Product. Misstevia launched 1ST TIME in India, Sugar-Free STEVIA sweetened Spicy & Sweet Amla Goli/candy.

We don't need to describe the benefits of Amla. Our Sugar free Amla goli is unique for some specific qualities. We use Fresh Amla Pulp and mixed with spices and make it sweetened with Stevia. We do not add color or flavor. Our Amla Goli(110gm) product contains more than 60% Amla Pulp. On every bite, you can feel the taste of Amla.
Healthy, Tasty & Safe. Diabetic & Kids friendly.
NO COLOR NO FLAVOR, NO CHEMICAL or OTHER FORM OF SWEETENER, SWEETENED WITH STEVIA, MORE THAN 60% AMLA PULP.

Ingredients:
Amla,Cumin, Black pepper, Black salt, Salt, Chilli powder, Mango powder, Ajwan, Ginger Powder, Citric acid,Non-nutritive Natural fibre, STEVIA Sweetened