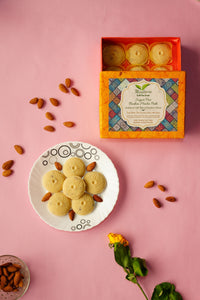 Misstevia- Sugar-Free Stevia Sweetened Badam-Malai Peda - 250gms
Rs. 399.00

Rs. 399.00

Save Rs. 11
---
---
It is a Vegetarian Product. Misstevia presents a wide range of Sugar Free Sweets Sweetened with Natural sweetener Stevia. Our motto-"Taste Better Than Sugar based Sweets"
Misstevia Badam Malai Peda, is a low calorie, health friendly sweet option for all. It is made from100% pure form of Milk. The kheer is produced from Milk by boiling and then adding Stevia sweetener on it. Misstevia Badam Malai Peda contains 70%calorie reduction than Conventional Badam Malai Peda.

NO COLOUR · NO SYNTHETIC CHEMICALS. NO ARTIFICIAL SWEETENER . NO OTHER FORM OF SUGAR . SWEETENED WITH STEVIA . MADE WITH 100% PURE MILK

Kids friendly
Best option for Diabetic & calorie Conscious people...Best gift option for every occasion.
Ingredients:
Milk, Cashew Nut, Almond, Ghee, Cardamom,, Stevia, Non-Nutritive Natural Fibre
Healthy and tasty: Perfect combination