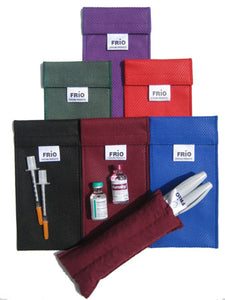 FRIO Insulin Pen Cooling Travel Pack for Diabetics (Duopen)
Rs. 1,700.00

Rs. 1,700.00
---
---
Used to carry for 2 Pens or 1 Pen + 2 x 3ml Cartridges
Frio Insulin Pen Travel Cooler (Insulin cooler bag for diabetics) is an evaporative cooling unit designed to keep insulin cool within safe temperatures of 18 to 26 degrees Celsius for 45 hours. It makes travel hassle free, gives you the convenience , freedom , peace of mind and  is indeed the perfect Diabetic Travelers Companion.
Content: 
Each Frio Insulin Travel Pack consists of two parts: 1) Cambrelle outer cover 2) Inner wallet made of poly-cotton with panels containing cooling crystals.
Key Features include:
Activated by water only.
No refrigeration or ice needed.
Keeps insulin cool and safe and protects at all temperature.
Reusable Green Product with Patented technology made in UK.
Durable 
Approved by British Medical Devices Unit and US FDA approved
Given the status of " Product Millennium"
Easy to use : 2 simple steps 1] Immerse the inactivated inner pouch in water (preferably cold) for 5 - 8 mins 2]Drain the excess water , dab it , dry the pouch and place in the outer pouch
Sold By : Clinicare (India) Pvt Ltd