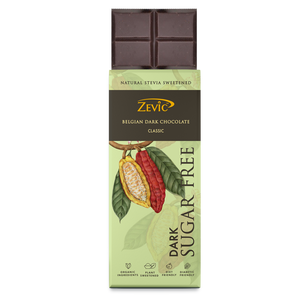 Zevic Classic Stevia Chocolate 40 gm
Classic stevia chocolate makes you indulge in the guilt-free divinity of rich cocoa enriched with Naturally Zero Calorie sweetness of the Stevia plant made using premium handpicked cocoa beans and Stevia leaves to give you a delightfully healthy and luscious experience that'll leave you wanting more, it's our promise!
All health-conscious chocolate connoisseurs who crave for the true taste of rich chocolate, this classic stevia chocolate is made especially for you.
Key ingredients/Composition: 
Unsweetened Belgian Cocoa, Stevia Extracts, Emulsifier (492), Antioxidants (322), Maltitol (965/0), Erythritol, Edible Vegetable Fat. Contains Added Natural (Vanilla) flavoring substances.


We do not add sugar or artificial sweeteners. 

Safety information/Caution - Keep in cool dry place away from sunlight.